Kurs og arrangement
Publisert 06. mars 23
Av: NAF + NODA
Arctic Urban Space Dynamics - Seminar + Workshop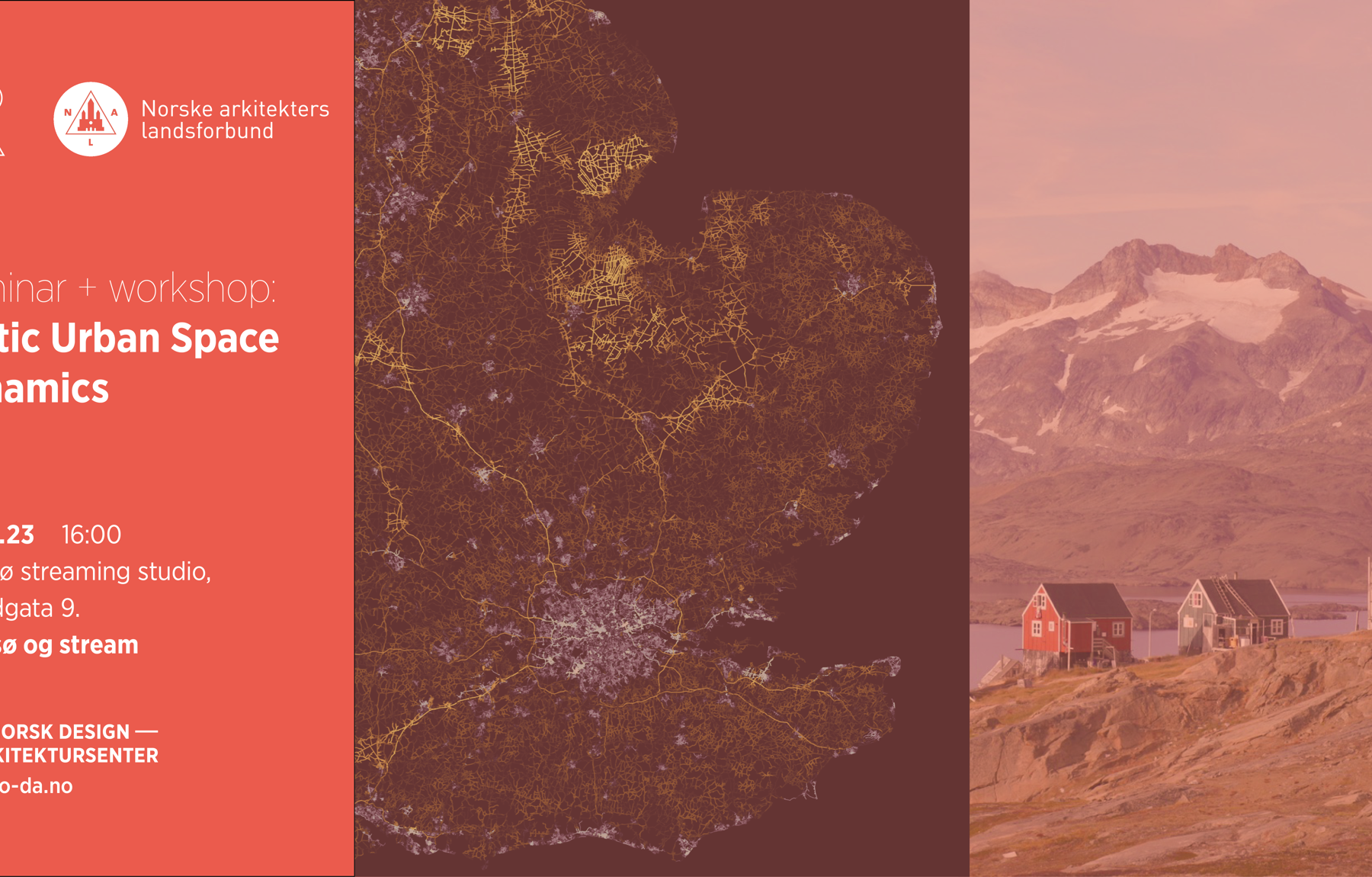 NAF + NODA wish to invite to an evening seminar on the topic Arctic Urban Spaces. Through the seminar, followed by a workshop introducing space syntax you will expand your knowledge on urban development in the arctic in addition to gaining new skills in order to analyse big data and how this is applicable to urban planning.
We are joined by Dr Tasos Varoudis from The Bartlett School of Architecture, UCL, London and Dr Peter Hemersam from The Oslo School of Architecture, AHO. Both work with urban planning – however, with different approached and perspectives. Peter will introduce us to planning in an arctic environment, while Tasos will show how to plan using data-centric methodologies. Tasos is driven by the concept of 'spatial dynamics', the interaction between architectural space and machine intelligence and has developed methods and software to understand and include great complexity in urban planning. These methods and related software will be demonstrated in the following workshop.
This event is aimed at professional architects and planners working in the urban realm. It should also be interesting for people working urban development (eiendomsutvikling), students of landscape architecture, urban planning and anyone else who feels tickled by this subject.
Tickets
300 kr Ticket
 150 kr NAF + NODA
  50 kr Streaming for NAF + NODA
AGENDA
Streaming – Tromsø Streaming Studio. Strandgata 9, Tromsø + streamed online.
16:00    Doors open.
16:15    Welcome
             NAF + NODA. Inclusive arctic urban spaces.
16:30    Perspectives on Arctic Urban Space
             Dr. Peter Hemmersam. AHO, Oslo. 35 min.
17:10    Space Syntax and the Inner Dynamics of Computational Geometry and Spatial Morphology.
             Dr. Tasos Varoudis. UCL, London. 35min.
17:45    Discussion
18:00    Break with Pizza
18:45    Workshop: DepthmapX
             Margie Chaskopoulou. Tromsø.
19:45    Summary
20:00    Doors close
LECTURES
Perspectives on Arctic Urban Space
Dr Peter Hemmersam. AHO, Oslo.
Arctic urban space design has been seen as a particular challenge by architects and urban designers since the mid-twentieth century. Often, the proposed solutions have concerned urban climatology, while the everyday use of space has received less attention. The talk will look at various ways urban spaces have been conceived, planned, and designed across a range of Arctic territories.
Space Syntax and the inner dynamics of computational geometry and spatial morphology.
Dr. Tasos Varoudis. UCL, London.
The lecture jumps between traditional Space Syntax methodologies, for analysing urban morphologies, and new methods utilising machine intelligence and other multi-dimensional methods developed by Tasos Varoudis at UCL. We begin with how Space Syntax measures try to capture a particular morphological quality of the space in various scales and continue with multiple examples, ideas and experiments that explore the use of weighted graph spectra, multi-dimensional datascapes, complex data structures and deep learning models for the purpose of characterising the spatial structure in a continues 'feature space'-like form.
While the lecture will juggle between introductory and advance topics in order to generate discussion both on the research side and the architectural practice, the workshop by Margarita will focus in introducing the basics of Space Syntax.
WORKSHOP
The workshop will consist of a hands-on demonstration of the depthmapX software. DepthmapX is an open-source and multi-platform spatial analysis software for spatial networks of different scales developed by the Space Syntax group (Dr. Tasos Varoudis). It works at a variety of scales from buildings and small urban areas to whole cities or states. At each scale, the aim of the software is to produce a map of spatial elements and connect them via a relationship (for example, intervisibility, intersection or adjacency) and then perform a graph analysis of the resulting network.
Workshop participants should bring their own laptop and have installed the QGIS software. DepthmapX does not require installation and can be downloaded here:
https://github.com/SpaceGroupUCL/depthmapX/releases
PRESENTERS
Peter Hemmersam is a Professor of Urban Design at the Oslo School of Architecture and Design. He teaches urban design and urban design history and theory and heads the Centre for Urban and Landscape Studies at AHO. He is a member of the Arctic City research group, and in 2021 he published Making the Arctic City - The History and Future of Urbanism in the Circumpolar North (Bloomsbury Academic). He is currently researching residential urban space in Greenland.
Dr Tasos Varoudis is a qualified architect and computing engineer with research focusing on architecture, machine intelligence and spatial computation. He is an Associate Professor in Architecture and Machine Intelligence at the Bartlett School of Architecture, UCL and drives the spatial computation and machine intelligence research for the Space Syntax Laboratory and leads 'depthmapX' spatial network analysis software project.
Margie Chaskopoulou is an architect (NTUA, AHO) and urban designer (UCL), based in Tromsø. She is a member of AT arkitektur and Fabric+ and she is involved as a skills tutor at the Research Cluster 14 at The Bartlett School of Architecture. Her interests revolve around the use of advanced computational methods in the design process.